Sample itineraries for tailor made sailing trips
On your request we can organize private trips lasting anything from 3-4 hours up to 8-10 hours, preferably in the afternoon. Whole day trips are also possible. We can also arrange for fresh prawns or other seafood to be served aboard as we moor in a small sheltered bay. Alternatively we may stop at a nice local seafood restaurant for a prearranged meal.  We will mostly go by sail if that is to the guests' liking and the guests may also use the onboard fishing rods. Please also note that the guests will probably not run into, or see,  other tourists during the cruise!
This is what a typical 3-4 hour tour may look like, while longer tours typically include a meal and a few more landings:
After showing you the "ins and outs" of the boat you get light weight inflatable life jackets to wear before  we head to Florvåg (WP 6 on the map), central Askøy.
Then we head south to the small village of Strusshamn (WP 10) boasting long maritime traditions and former quarantine harbour for the city of Bergen.
From Strusshamn we continue South and return North passing the southernmost tip of Askøy. We are now heading to Skorpo (WP 19), an island regulated for leisure by the municipality of Askøy .​
Swimming is permitted …
After swimming we could stop at an island, Færøyna (WP 23) just south of Skorpo where a path leads to an old, German observation post from the second world war
Now we will, time permitting, turn southeast and head for "Alvøen" (WP 30), a little village known for its gunpowder production in the 1620-ies and  later its paper factory producing paper for Norwegian banknotes.
The mansion naturally belonged to the factory owner.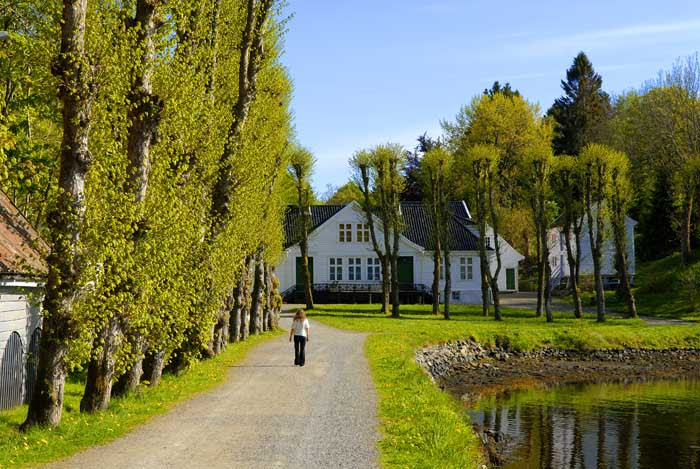 Places to dine within 1-2 hour sailing form Bergen:
Tailor made tours cost from  NOK 2000 per hour, depending on the number of guests. 12 guests is the maximum. However,  if  a meal onboard is required, 8 passengers should be considered the maximum for comfort. Minimum time is two hours. Extras will be meals and alcoholic beverages on request.